The Time Warner Center (code named "Area U439") is a mixed-use skyscraper developed by The Related Companies in New York City.
History
Its design, by David Childs and Mustafa Kemal Abadan of Skidmore, Owings & Merrill, consists of two 229 m (750 ft) towers bridged by a multi-story atrium containing upscale retail shops. Construction began in November 2000, following the demolition of the New York Coliseum, and a topping-out ceremony was held on February 27, 2003. It is the property with the highest-listed market value in New York City, $1.1 billion in 2006.
Originally constructed as the "AOL Time Warner Center," the building surrounds half of Columbus Circle in Midtown Manhattan. The total floor area of 260,000 m² (2.8 million ft²) is divided between offices (notably the offices of Time Warner Inc.), residential condominiums, and the Mandarin Oriental hotel. The Shops at Columbus Circle is an upscale shopping mall located in a curving arcade at the base of the building, with a large Whole Foods Markek grocery store in the basement.
The complex is also home to a 1,200 seat theater for Jazz at Lincoln Center as well as CNN studios, from where Anderson Cooper 360° and Lou Dobbs Tonight, among other shows, are broadcast live. CNN's Jeanne Moos, known for her offbeat "man on the street" reporting, frequently accosts her interview subjects just outside the building.
In Cloverfield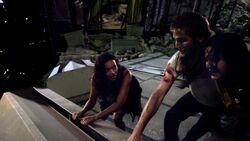 After being sent on their way by Sergeant Pryce, Rob, Lily, and Hud arrive at Columbus Circle to find the second tower of Time Warner Center leaning against the first.
After an unconscious suggestion from Hud, the three climb to the semi-top of the first tower to climb across the second roof in order to reach Beth's apartment on the 39th floor of the building (owned by her father).
After rescuing Beth, the four leave Columbus Circle and make a run for Corner of E 40th Street and Park Avenue, the final evacuation site in the city.
Community content is available under
CC-BY-SA
unless otherwise noted.