Park Avenue Tunnel

Park Avenue in Midtown
Country/Continent
United States
Location
Midtown, Manhattan, New York
Status
Destroyed
The Park Avenue Tunnel passes under Park Avenue in the New York City borough of Manhattan, leading up towards Grand Central Terminal.
Info
It once carried the New York and Harlem Railroad and later that company's streetcar line and was called the "Murray Hill Tunnel". It is now under the care of the New York City Department of Transportation and carries two lanes of car traffic from East 33rd Street to East 41st Street. Due to the construction of Grand Central Terminal and the removal of tracks, the north end has been reconstructed for a steeper approach.
The tunnel was originally built as an open rock cut, completed in 1834, after which the NY&H Railroad was opened as far as Yorkville, to 85th Street. In the 1850s the cut was roofed over, using granite stringers from the original railroad bed south of 14th Street, thus creating the present tunnel. The vertical clearance is 8 feet 11 inches (2.71 m).
The New York City Subway runs beneath the tunnel. Only the two center express tracks of the Lexington Avenue Line are directly below and thus are a few feet lower than the two outer tracks.
In Cloverfield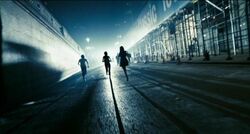 The intersection of the streets formerly known as 40th Street and "Park Avenue" were one of the several airlift evactuation points, and the one closest to the HAMMER-DOWN Protocol's zero vector. It is the area Lily, Hud, Beth, and Rob are instructed to reach before 6:00 AM.
External Links
Community content is available under
CC-BY-SA
unless otherwise noted.