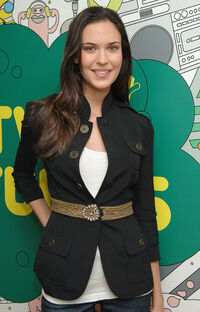 Odette Juliette Yustman (born May 10, 1985) is an American actress.
Early/Personal Life
Yustman was born in Los Angeles, California. According to the actress, her mother, Lydia, is Cuban, and her father, Victor Yustman, who is of Italian and French descent, was born in Bogota, Colombia and raised in Nicaragua.[1][2] Yustman is fluent in Spanish.[3] Odette is currently in a relationship with Trevor Wright.[4]
Acting
She debuted at an early age, playing a young student in Kindergarten Cop and later moved on to various television shows and movies such as South Beach and October Road. In 2007, she starred in the Lifetime original movie Reckless Behavior: Caught on Tape and followed it quickly with a lead role in J. J. Abrams' Cloverfield[5]. On January 29, 2008, Variety announced that she would appear in Unborn, which is due to begin filming in March.[6]
Filmography/television
Year
Title
Role
Notes
2009 in film
Unborn
Casey Beldon
Film
2008 in film
Cloverfield
Beth McIntyre
Film
2007 in film
Walk Hard: The Dewey Cox Story
Reefer Girl
Film
October Road
Aubrey
TV Series
Transformers
Socialite
Film
Reckless Behavior: Caught on Tape
Emma Norman
TV Series
2006 in film
The Holiday
Kissing Couple
Film
Monk
Courtney
TV Series
South Beach
Arielle Casta
TV Series
2004 in film
Quintuplets
Kelly Helberg
TV Series
1996 in film
Dear God
Angela, Daughter
Film
Remembrance
Charlotte
TV Series
1990
Kindergarten Cop
Rosa
Film
References
External links