Jamieandteddy.com is a viral website created by the Cloverfield producers as part of the Viral Marketing Campaign. The site was created by Jamie Lascano, as a gift for her boyfriend, Teddy Hanssen. Eleven video clips were posted on the site before the movie's premiere.
Discovery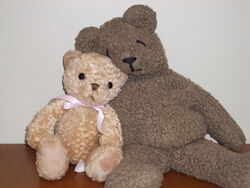 On or around September 4, 2007 Jamie posted a blog on her MySpace page titled "Always toward absent lovers love's tide stronger flows." In that blog, she says "Is it weird that I'm way more into Teddy now that he's gone?" and then later says "I miss you, Hanssen. I really do." In this manner, Jamie's new long-distance boyfriend, Teddy Hanssen, was introduced. On Sept. 10, 2007, Jamie posted a comment on Marlena's page that read:
"Hey girl! Well that certainly got his attention. Teddy-bear called me each of the last three days, and each time we've ended up talking for like 3 hours. I miss the man behind the voice! He says he already watched it ten times and demanded more! Such a sweetie!"
This led to speculation that there were videos out there on the internet, culminating in the discovery of the jamieandteddy.com website, and the password "jllovesth" (case sensitive). Initially, only one video was posted, but on October 4, 2007, another was added, more following that.
Website Timeline
August 27th, 2007 - Site created.
September 12th, 2007 - Site discovered.
October 4th, 2007 - Second video uploaded.
October 18th, 2007 - Third video uploaded.
November 12th, 2007 - Fourth video uploaded.
December 10th, 2007 - Fifth video uploaded.
December 26th, 2007 - Sixth video uploaded.
December 2nd, 2007 - Seventh video uploaded.
Jan 7th, 2008 - Eighth video uploaded.
Jan 9th, 2008 - Ninth video uploaded.
Jan 13th, 2008 - Tenth video uploaded.
Jan 18, 2008 - Eleventh video uploaded.
April 3d, 2008 - The sword logo appears.
External Links