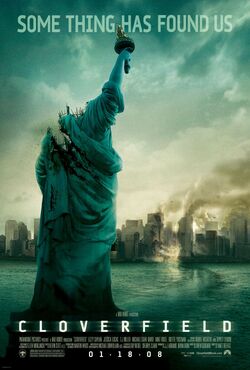 The Cloververse[1] (also known as the Cloverfield Universe) is a American science fiction horror film anthology produced by Bad Robot Productions and distributed by Paramount Pictures. Created by J.J. Abrams, Drew Goddard, and Matt Reeves, the Cloververse began in 2008 with the found footage monster film, Cloverfield released in January 2008, followed by the 2016 film, 10 Cloverfield Lane, released eight years later in March 2016, and the 2018 film, The Cloverfield Paradox. The greater Cloververse was established with the use of viral marketing techniques designed to allow the audience participate in the story unfolding prior to events of their proper films.
History
Cloverfield

Main article: Cloverfield
The first film of the series, released in 2008, is a found-footage monster horror film directed by Matt Reeves, produced by J.J. Abrams and Bryan Burk, and written by Drew Goddard. Before settling on an official title, the film was marketed as 01-18-08. The film, which is presented as found footage shot with a home camcorder, follows six young New York City residents fleeing from a gigantic monster that attacks the city while they are having a farewell party. The film was well received by critics and grossed over $170 million at the box office against a $25 million budget.
10 Cloverfield Lane

Main article: 10 Cloverfield Lane
The second film released in 2016 is a psychological horror-thriller film directed by Dan Trachtenberg, produced by Abrams and Lindsey Weber, and written by Josh Campbell, Matt Stuecken and Damien Chazelle. It serves as a follow-up to the first film. The film was developed from a script titled The Cellar, but under production by Bad Robot, was ultimately produced as the second film of the franchise. The film follows a young woman who is held in an underground bunker with two men who insist that a hostile event has left the surface of the Earth uninhabitable. The film presents the questionable truth of such statements made by the owner of the bunker. The film is presented in a third-person narrative, in contrast to its predecessor's found footage style. Critical response was largely positive, and the film grossed over $110 million against a $15 million budget.
The Cloverfield Paradox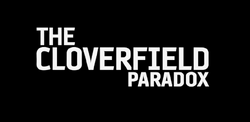 Main article: The Cloverfield Paradox
The Cloverfield Paradox is a science fiction horror film directed by Julius Onah and written by Oren Uziel and Doug Jung. The film released on February 5 2018 on Netflix.[2] The flim's title was changed from God Particle to The Cloverfield Paradox on the night of its release.[2] The film follows a team of astronauts who are stranded in space after the Earth suddenly disappears.[3] On December 28, 2016, Paramount Studios removed God Particle from its schedule and added a Cloverfield IMAX Film, to be released on February 2, 2018.[4]
List of films in the Cloververse
References