Brittany
Biographical Information
Name
Nicknames
Born
Death
Around 2014
Cause of Death
Killed by Howard
Citizenship
American
Family
Zodiac
Blood type
Orientation
Habits
Physical Description
Hair
brown
Eyes
Height
Weight
Career Information
Occupation
Education
College
Student Status
Affiliation
Series information
Appeared In (canon)
10 Cloverfield Lane (Photo)
Appeared In (non-canon)
Actor
Unknown
[Template]
Brittany is a minor character that appared on 10 Cloverfield Lane.
Background
"She went missing, two years back. It was on the news and everything. Most people just thought she skipped town."
—Emmett to Michelle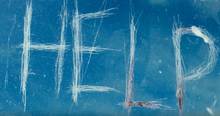 Brittany, whose last name is unknown, went missing two years before the events of 10 Cloverfield Lane. Although the film does not clarify with certainty what happened to her, the most likely outcome is that she was kidnapped by Howard Stambler and forced to assume the role of his absent daughter Megan. At some point after her kidnapping, she was most likely killed by Howard and her body dissolved in his vat of acid; she most likely refused to cooperate with him.
While imprisoned by Stambler, Brittany used one of her earrings to carve the word "HELP" into the glass of the locked hatch that served as a secondary entrance to the bunker she was trapped in. Two years after her disappearance, Michelle, who had been forced by circumstance and Stambler to live in the bunker, discovered this message and the earring used to carve it. Together with Emmett, a fellow resident of the bunker, Michelle deduced that Howard had been pretending that a picture of Brittany was truly that of his daughter, and that Brittany had most likely been murdered by Stambler. Brittany was later indirectly avenged by Michelle when she destroyed the bunker, an act which also killed Howard.
Community content is available under
CC-BY-SA
unless otherwise noted.