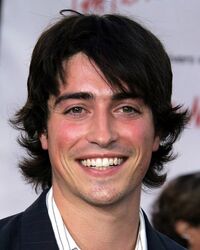 Ben Feldman (born May 27, 1980) is an American television and film actor.
Bio
Feldman has done stage acting, including the Broadway play The Graduate along with Alicia Silverstone and Kathleen Turner. He also played a leading character in The Perfect Man and portrayed Fran Drescher's son in the television series Living with Fran. He guest-starred on the CBS show NUMB3RS in late November 2007 and Las Vegas in late January 2008.
Early Life
Feldman was born in Washington, D.C. He was involved in camp and school theater from the age of six, and attended Winston Churchill High School in Potomac, Maryland. He worked as a camp counselor in the theater and a Videography class for several summers in the program "Creative Summer" at the Holton-Arms School in Bethesda, Maryland. He attended Ithaca College in New York, where he majored in theater arts.
He currently lives in Los Angeles, California.
Television
Las Vegas
Numb3rs
Them (TV series), (2007) - Floyd Grunwald
Living with Fran (2005-2006) - Josh Reeves
The Mayor (2003) - Jake Winterhalter
Less Than Perfect (2003) - Nicholas
The New Adventures of Old Christine - Timmy
Movies
Cloverfield (2008) - Travis
Parental Guidance Suggested (2007)- Len
The Perfect Man (2005) - Adam
When Do We Eat? (2006 film) (2005) - Zeke
External links