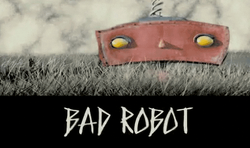 Bad Robot Productions (known simply as Bad Robot) is a production company owned by J. J. Abrams. It is responsible for the television series Alias, Lost, What About Brian, Six Degrees, and the feature length films Star Trek (2009) and Cloverfield (2008).
The Bad Robot shingle was originally part of Touchstone Television, but has moved with J. J. Abrams to Paramount, Universal, Columbia Pictures, Screen Gems and Warner Bros. (for movies and television series, respectively) after his contract with Touchstone had expired in 2006. Bad Robot still continues to produce Lost in association with ABC Studios, formerly Touchstone Television. The two companies also continued to jointly produce Six Desgrees and What About Brian until their respective cancellations.
Abrams is Chairman/Chief Executive Officer, Bryan Burk Executive Vice President of the company. Thom Sherman was President of Bad Robot, but it was announced in June 2006 that he would be leaving to become Executive Vice President of drama development at the new CW Network. A successor has yet to be named.
Film & Television Productions
As well as popular television programming, Bad Robot Productions are also a feature film production company.
Film Credits:
Joy Ride (2001)
Mission: Impossible III (2006)
Cloverfield (2008)
Star Trek (2009)
Untitled Hunter Scott Project (TBA)
Untitled Cloverfield Sequel (TBA)
Television credits:
Alias (2001-2006)
Lost (2004-Present)
The Catch (2005)
What About Brian (2006-2007)
Six Degrees (2006-2007)
Boundaries (2008)
Fringe (2008)
Anatomy of Hope (2008)
Awards and recognition
2002 Emmy Award Nomination, Outstanding Writing for A Drama Series (Alias)
2005 Emmy Award Winner, Outstanding Drama Series (Lost)
2005 Emmy Award Winner, Outstanding Directing for A Drama Series (Lost)
2005 Emmy Award Nomination, Outstanding Writing for A Drama Series (Lost)
2006 Golden Globe Award Winner, Best Television Series - Drama (Lost)
2007 Golden Globe Award Nomination, Best Television Series - Drama (Lost)
External links